Latest Release . . .


Swimming Monkeys: Exodus

The FBI Wants Them Caught…The Chinese Want Them Dead…One Man Wants Them Free...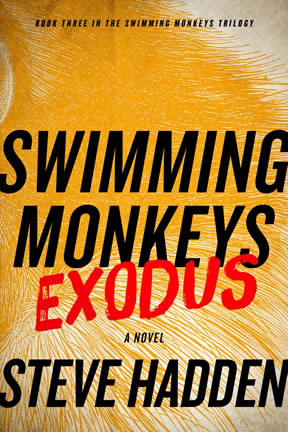 READ AN EXCERPT
Ryan Webster has traded his Olympic dream to become the target of the largest manhunt in history.The most remarkable near-human primates ever uncovered have become his closest friends. Their DNA holds an explosive secret—the key to man's immortality. Tess Simmons, mother of two and the highest ranking woman in the FBI, is on Ryan's trail. She knows his apprehension is her ticket back to her family. At the same time, a Chinese sleeper agent races to destroy the monkeys and their secret, or the family he loves dies.
Fleeing into the Southern Sierras with his crazy Uncle Thad, Addy Martin, the deadliest woman he's ever loved, and Davy Jones, the only human to double his lifespan with the monkeys' secrets, Ryan gets an unsettling call. Deep in the Amazon, just outside the burned out impact crater that once was their home, the world's leading anthropologist has found their parents—alive. He's willing to risk his illustrious career with a promise to conceal his discovery on one condition—Ryan must accept a deadly quest and give up everything to get his friends home.
Swimming Monkeys: Exodus is a gripping thriller about one man's commitment to a promise and his choice between family and immortality.